Mount Greylock Alumna Speaks on UMass Amherst Protests
Laura Dupuis shares her experience at the protests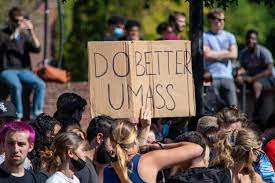 On Sunday, September 19, a protest broke out on the University of Massachusetts Amherst's campus outside the Theta Chi fraternity house. Around 300 students gathered to protest the fraternity group after a social media post spread, alleging that a member sexually assaulted a woman at a party. 
Police officers showed up on the UMass campus in the afternoon in response to a call from members of the fraternity house, according to the Massachusetts Daily Collegian. Protestors threw cans and bottles at the house, and officers encouraged students to go back to their dorms.
Former Greylock alumna and Echo Associate Editor Laura Dupuis attends UMass Amherst and spoke with the Echo about the events. 
"It's been very confusing," Dupuis said. "People were extremely upset because there is very much a rape culture here. At [fraternity] parties, it's kind of expected that you have to be so safe because things like this happen very often."
Dupuis said the student body received an email from their chancellor, Kumble R. Subbaswamy, saying that the university could not take action until the individual victim came forward to speak. Dupuis empathized with the woman, saying she didn't expect the woman to come forward because of a "multitude of reasons." 
Dupuis felt as if the institution's handling of the matter was inappropriate. Rather than acknowledging the evident rape culture within Greek life, the chancellor "decided to basically say 'sucks to be us,'" said Dupuis.
After days of protesting, the administration has decided to engage in an awareness program with Greek letter organizations. Dupuis is grateful that they were starting this initiative, but upset that this was not the immediate response. 
When asked how it affected her personally, Dupuis said it's been a "tough situation." 
"I know I'm not alone in that I know there are a lot of people that are really deeply triggered by this," Dupuis said. "It's really good that somebody's doing something now, but the first email that we received from the chancellor was honestly kind of scary. We felt like we were going to have to just live with this terrible culture."
According to Dupuis, QR codes were displayed at the protests to sign petitions to disband the fraternity houses on campus. In objection to his handling of the matter, the protests migrated outside the chancellor's house on campus. 
"For something that's been so prevalent in the past week, I haven't had a single professor mention it… it's only been the chancellor and the vice chancellor," Dupuis said. "It's been rather weird that professors haven't talked about it, because this is a very real life issue. I'm double majoring in psychology and public health, so you'd think [professors] would have said something."
Dupuis attended one of the protests on campus, and was happy with the turnout and the diverse nature of the students who attended.  
"It was very, very deeply moving. There were so many people there, a lot of [men] too, which was really nice to see all the support," Dupuis said. "It was very moving that so many people care so much about this issue, so even though it's a really scary time, frankly, for a lot of people, there are some really decent people out there too."