Massachusetts Gubernatorial Race Features Diverse Candidates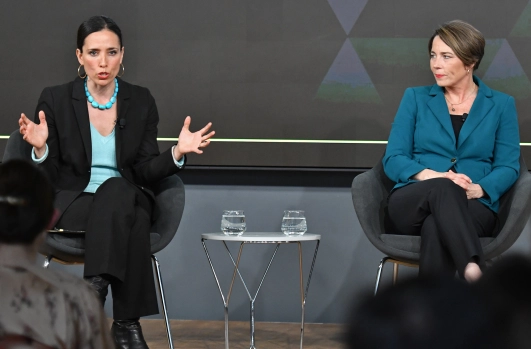 Midterms are elections that occur halfway through the current president's term. In the Massachusetts 1st Congressional District, no one has challenged incumbent Congressman Richard Neal. Neither Massachusetts senators are up for reelection this year. 
That doesn't mean that the 2022 midterm elections will not be exciting here in the Bay State. With incumbent Republican Governor Charlie Baker not seeking re-election, the field is wide open for anyone who wants it. 
There are two front runners for the Democratic seat: Sonia Chang-Diaz and Maura Healey. 
Chang-Diaz represents the Second Suffolk District in the State Senate. In practice, this is mainly the western part of Boston. She also represents Jamaica Plains, where she currently lives. She was the first Hispanic woman to be elected to the Massachusetts State House. 
Chang-Diaz generally has policies that are considered progressive, even by Massachusetts standards. Her biggest push: A Green New Deal for Massachusetts and Medicare for All in Massachusetts. With policies like these, she has garnered the endorsement of several progressive elected officials. One of these is Berkshire County's own Helen Moon, a former Pittsfield City Councilor.
The other major candidate for the Democratic seat is Maura Healey. At this point, Healey is a household name for most people who follow Massachusetts state politics as the Massachusetts Attorney General. There is a saying that the AG in Attorney General actually stands for "Almost Governor," so long before the race even began or she declared her candidacy, Healey was considered a candidate for the gubernatorial position. Healey is the first openly gay Attorney General in the United States.
As far as issues go, Healey's website is still bare. There is nothing outside of the typical "Donate" and "Volunteer" pages. However, one can guess that Healey's agenda will be similar to her agenda as Attorney General, meaning that she will essentially be slightly to the right of Chang-Diaz, but not outrageously so. Healey is generally a more moderate politician. 
One of the things that Healey has simultaneously caught praise and flak for is her 2020 lawsuit against JUUL for targeting teenagers in their ads and creating an epidemic amongst the age group. 
The Governor's race is slightly more complex in the Republican party. There is not a clear front runner, but Geoff Diehl seems to be the closest they have. 
Diehl is a former state representative. He served until 2018, when he unsuccessfully challenged Senator Warren's re-election campaign. Diehl's greatest strength as a candidate appears to be a key endorsement from former President Donald Trump. Diehl generally supports small government. On his website, he opposes "unfair government mandates;" while this is not explained in much detail, it likely refers to the restrictions that Americans have faced during the COVID-19 pandemic. 
Chris Doughty, a candidate and businessman, has also been able to pick up several endorsements. His endorsements are from Massachusetts state officials. He only has one policy on his website as it stands, and his lack of political history makes his campaign hard to predict. The one existing policy is the suspension of the gas tax in Massachusetts. In Massachusetts, the Gas Tax is an extra 26.5 cents per gallons of gas. 
There is one more candidate listed in the running for the Republican nomination. This candidate is a recognizable name to anyone familiar with Massachusetts electoral politics, Dr. Shiva Ayyadurai, often called Dr. Shiva by his supporters. Ayyadurai ran for the Republican nomination to the Senate in 2020. When he lost the primary, he filed to run as an independent. When Ed Markey won the general election, Dr. Shiva had announced plans and filed candidacy to run against Senator Elizabeth Warren in 2024.
Pay attention to the midterms this year. They may not seem exciting, especially without anyone new running for election to Congress. But, our state senate seat will be left vacant, which should be interesting. On top of that, our current state senator is running for Lieutenant Governor. For a more detailed look at all the elections and ballot questions, I recommend Ballotpedia, which is a database for all election information.