Wake Commit Benzinger Signs NLI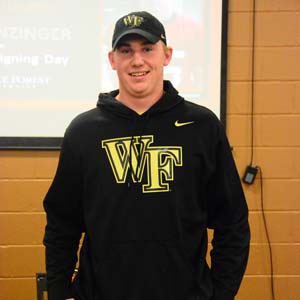 February 6, 2015
Filed under Sports
Hang on for a minute...we're trying to find some more stories you might like.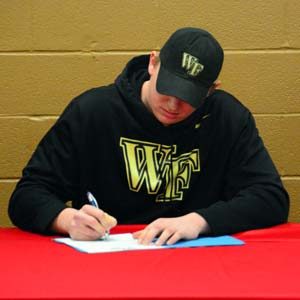 College football fans, players, and coaches know every first Wednesday in February as  National Signing Day; the day when Division I recruits sign their national letters of intent to solidify their commitments to their respective schools.
Mt. Greylock senior offensive tackle Jake Benzinger committed to Division I Wake Forest University in Winston-Salem, North Carolina in early August prior to the school year and will attend on a full scholarship. On Wednesday February 4, 2015, Benzinger signed his national letter of intent at 11:00 AM in the meeting room at Mt. Greylock Regional High School.
Wake Forest head coach Dave Clawson is getting a unique athlete. At 6'8" and 278 lbs, Benzinger's enormous body compliments his immense strength. This past football season, Benzinger was challenged in ways he hasn't been challenged before. On a play-to-play basis Benzinger had to block not one, but sometimes two or even three defensive lineman to make up for undersized teammates. Certainly, this challenge will help Benzinger in blocking the quick and strong defensive ends of the Atlantic Coast Conference.
"It's a great feeling to know that I'll become a part of the Wake Forest program starting in the summer," said Benzinger.
"I think this a good fit for me school-wise and I'm more than excited to be a Demon Deacon. I can't wait to get down to Winston-Salem in August."