World Football Weekly: 9/18
September 18, 2015
Filed under Sports
Hang on for a minute...we're trying to find some more stories you might like.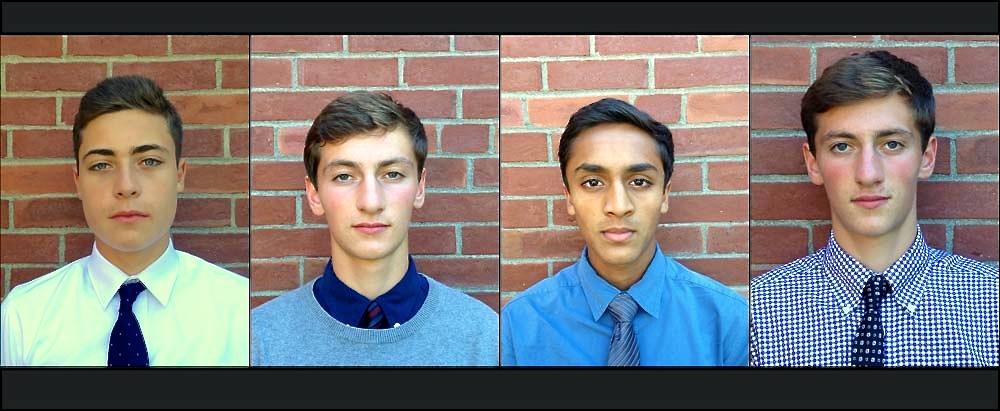 Column by: Elias Sekkal, Aaron Kleiner, Manas Jain, Matthew Kleiner
Each week, The Echo's own football pundits will discuss two of Europe's biggest matches at the weekend and make their predictions
Arsenal-Chelsea
The Premier League's marquee fixture this Saturday sees a clash between two of the largest and most decorated sides in English football. Arsenal started off the campaign with a loss to neighboring London squad West Ham United, but have since picked up ten points out of four matches and now sit comfortably at fourth in the table. With the exception of their sole summer signing, veteran goalkeeper Petr Cech, the Gunners have brought back a nearly identical squad to last season's, including world-class talents Alexis Sanchez and Mesut Ozil supporting an inform midfield and attack. Nonetheless, veteran manager Arsene Wenger, now in his 20th year in charge, has faced heavy criticism from the North London supporters for not bringing in a new frontman during the the most recent transfer window, as many dismiss current striker Olivier Giroud as the wrong man to bring the title back to to the Emirates. A brutal midweek loss to Dinamo Zagreb, which saw Giroud dismissed after a violent tackle in the 40th minute, threw a wrench into Wenger's Champions League plans, but he will hope to forget Wednesday's poor result in lieu of the weekend's massive domestic battle. On the other side of the pitch, Chelsea started its title defense in abysmal form. A side that stormed to the title in May eight points ahead of second place Manchester City, the Blues have struggled to get results, recording only one win in their opening five matches. Chelsea's defense, viewed unanimously as the finest in England last season, has been shambolic this term, as leaders Branislav Ivanovic and captain John Terry have struggled immensely to diffuse the attacks they have faced thus far. Chelsea's midfield has also been astonishingly underwhelming. Spanish playmaker Cesc Fabregas' recent failure to set up goalscoring opportunities has frustrated Blues supporters who remember he had already tallied four assists by this point last year. Fabregas' countryman Pedro, the experienced former FC Barcelona winger, whom Mourinho brought to Stamford Bridge on deadline day, has also seen a sharp decline in form after his goalscoring debut on Matchday Three. Mourinho will indubitably have a few cards up his sleeve Saturday, and a stacked deck to pick from, but he will have to pull things together quickly to see off an Arsenal side looking to continue a run of good form.
Aaron: Arsenal will take advantage of Chelsea's dreadful form for an easy victory at Stamford Bridge. 3-1 Arsenal wins
Elias: In a massive clash that is sure to entertain, Arsenal will finally be victors over its cross-city rivals, picking up all three points at Stamford Bridge. 2-1 Arsenal wins
Manas: Chelsea will have a hard time getting their act together against a high-flying Gunners team. 2-1 Arsenal wins
Matthew: Mourinho has a massive opportunity to put his side back on track. It's impossible to imagine this Chelsea side continuing to stagnate just above the relegation zone. 2-1 Chelsea wins
Napoli-Lazio
The last time these two sides met was on the final matchday of the 2014-2015 campaign in a head-to-head duel for the Serie A's third Champions League spot. Lazio came out 4-2 victors at the San Paolo, much to the chagrin of the Neapolitans, who must content themselves once again with Europa League ties against provincial sides away from the limelight. Lazio's ignominious loss at the hands of Bayer Leverkusen in the Champions League playoff, which means they will also be restricted to Thursday nights for European competition, may have provided Maurizio Sarri's boys with a bit of consolation but they will surely be kicking themselves knowing they could have done better in place of Le Aquile. The start of the current campaign highlighted some serious concerns for both teams. Lazio's dumbfounding 4-0 loss to Chievo on the second matchday left many of the Curva Nord faithful bewildered and dismayed. However, the Biancocelesti have since regained their form with a dominant display in a 2-0 home victory over Udinese at the weekend. Napoli, on the other hand, fell immediately into old patterns straight from day one. The Little Donkeys' surprising knack for losing or tying matches they look to be in complete control of has continued under the leadership of new boss Sarri. Disgraceful draws against Sampdoria and Empoli and a heartbreaking loss to Sassuolo in the first round leave i Partenopei in fourteenth place in the Italian top flight. Lazio will be hoping to bury any doubts with a resounding victory at the same grounds at which it clinched a Champions League Qualifier berth just months ago. Napoli has looked dangerous with Lorenzo Insigne, Manolo Gabbiadini and of course Gonzalo Higuain moving forward, but its defense has consistently failed to contain some of the weaker sides of the Serie A. Sarri has a lot to prove in his fourth match at the helm and a victory in Naples could easily turn his season around.
Aaron: Lazio looks to be in far superior form with the addition of Alessandro Matri to the squad, however Le Aquiles' road results have been dreadful this term. 1-1
Elias: Napoli should not prove a large challenge for a Lazio side in great form. 3-1 Lazio wins
Manas: Coming off a big win last week, a confident Lazio squad will handily take care of a struggling Napoli. 2-1 Lazio wins
Matthew: Pioli's Lazio is quite simply the more cohesive team. Expect an angry Napoli to be frustrated quickly and concede on inspired counterattacks. 2-0 Lazio wins
World Football Weekly
Current Standings:
Aaron 2
Elias 1
Manas 0
Matthew 0
1 point for correct result, 2 for correct scoreline