Girls' Lacrosse Makes History in Tournament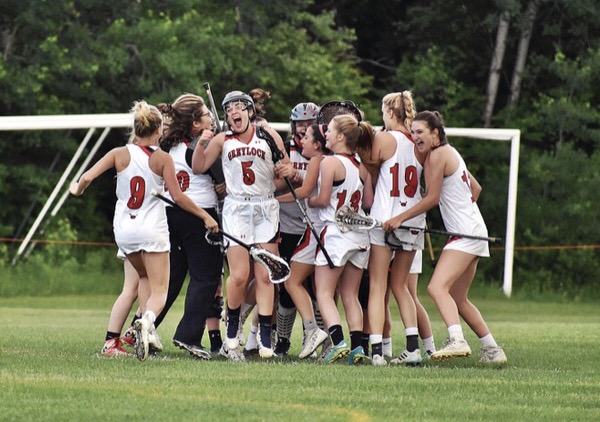 June 23, 2018
Filed under Sports
Hang on for a minute...we're trying to find some more stories you might like.
The Mt. Greylock girls' lacrosse team had a memorable and historic season with a 17-5 record and being the first Mt. Greylock and Berkshire County girls' lacrosse team to make it to the finals in the Western/Central Massachusetts tournament. The girls worked as a team throughout the entirety of the season and went into every game with determination. The six seniors of the team, Emma Polumbo, Aleya Cappadona, Caroline Flynn, Kristen Aliberti, Gabby Orpin, and Lauren Howard, were collectively in agreement at the start of the season to set and accomplish goals, the biggest being to make it far in the tournament.
The beginning of the girls' season started off with frustration due to the cancellation of many games because of weather. When there weren't any more predictions for snow, the team's schedule skyrocketed with what seemed to be a game every other day. By the end of the season, the team only became stronger, winning eight out of the last nine games. One of the most rewarding games, according to senior captain Emma Polumbo, was the win against East Longmeadow, a team they lost against on their second game of the season. Polumbo recalls this game vividly, claiming that "I will never forget the feeling I was left with when walking off the field." Even as the season came to a close, the whole team had the same consensus that this was one of the best games the team had played.
Already feeling proud enough of the hard work the team displayed in the regular season, the Mt. Greylock girls were ecstatic when hearing the news that they were seeded second out of the sixteen teams in the Western/Central Mass. tournament. As the tournament got started, the girls were determined to surpass the previous historical record, which was to make it past the quarterfinals. With that level of intensity, the girls did just that and made history. The Mounties beat Oakmont in the quarterfinals, and Hoosac Valley in the semifinals, making it to the finals against Bromfield. All these teams were hard competition, but that did not stop the passion within them.
Walking off the field of their final game of the season, the girls were more proud than upset for being able to work so well together to make it this far. Coach Lindsey von Holtz at the beginning of the season predicted the team would go far for it was likely the most skilled team to have ever been in the program. Von Holtz is sad to see the seniors leave, but feels confident about the team for next year: "we are definitely going to miss them," she says. "They worked incredibly, incredibly hard. But looking to the future, we will definitely miss them as we miss every senior, but we have a lot of young, strong players as well with a lot of heart."