Review: Coyote Flaco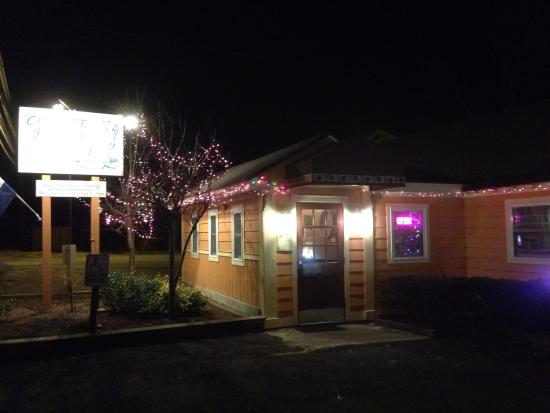 Hang on for a minute...we're trying to find some more stories you might like.
Coyote Flaco means skinny coyote, which I think is a funny name for a restaurant.  I would have preferred Coyote Gordo – which for those latin kids means Fat Coyote – as it seems to be more fitting for a place to eat.  Flaco is one of the few Mexican restaurants in Williamstown. Other than Tony's Sombrero on Spring street, which is mainly for a quick hit of Mexican, there are no other options in town (I have, however, heard very good things about the International House of Tacos located in Pittsfield, so I may have to try that out). Flaco does not have an amazing location; it is right on route 7 so there is a lot of noise from the road. It also has a small, fairly crumby parking lot that is not too inviting. Once you walk in you see many credentials and news stories praising Flaco. The interior has lots of Spanish and Mexican art, such as pieces by Rivera and Kahlo. There are three different menus to look at as you sit down: the main, drink, and specials, which I think is one too many. At least the main menu is pretty short, so it is not too overwhelming. Even though the menu is short, there are a good amount of options. It is family friendly and if needed there is a kids' menu with good options.
To start out with a drink there are quite a few non-alcoholic beverages, not only just the usually soft drinks, but my favorite, a wide selection of  "Mexican Sodas" or Jarritos. My favorite flavors of the sodas is the tamarind and pineapple. The drinks came swiftly and just in enough time so we were ready to order food when they came.
In terms of food, there are lots of options. Most of them stem from quesadillas, enchiladas, burritos, and  fajitas. Most of those like the burritos, enchiladas and fajitas you get to choose between beef, chicken, or veggies, like at Chipotle. I have never had the burrito, but I have had the fajitas, enchiladas and quesadillas.
For fajitas, you have the option of veggies ($14), chicken ($18), beef ($20) or shrimp ($22). It comes as a whole big flaming contraption, with a griddle on top with your choice on it. Surrounding the toppings are a bunch of condiments and extras, sour cream, rice, beans, and guac. With all of it you get five flour tortillas to put everything in. Although it tastes incredible it seems a little too extreme and pricey to justify.
In the enchilada scene, there are three options: the Suiza, Oaxaca (wah-hah-cah) and the Roja (all $14). I've only had the Suiza and it is amazing- so so incredible. With the Suiza you get to choose between veggies or chicken. I – the carnivore I am – chose the chicken. It was two corn tortillas stuffed with chicken, rice, beans and was served with sour cream and cheese. There was so much taste and it was by far the best thing I have ever had at Flaco and possibly the best Mexican I have had.
In terms of Quesadillas, there is one on the main menu, the Linda, which has cheese, mushrooms, pico de gallo and even baby cactus, along with your choice of meats and veggies again. I have never had this one myself, but I have heard amazing things about it. If you want an amazing cheesy quesadilla, then ask for the kid's quesadilla with chicken. This thing is stuffed with cheese and if you get chicken included, it makes it much better. The chicken is beautifully seasoned and compliments it perfectly. If you have had a long week with lots of tests or if you just did Berlin (XC runners), you may even want two of them because they are not very big.
Overall, Flaco is a perfect choice for most occasions, whether it is with friends on a friday, or with your family for a nice dinner. The service is great, and the owner may even stop by and he is incredibly friendly. The food is great, but is a little on the expensive side. The atmosphere is nice with lots of seating but a little cheaply furnished. On Fridays and Saturdays you may want to arrive on the earlier side since it fills up.
Coyote Flaco 505 Cold Spring Rd. Williamstown Ma. (Entrees $14-20).
Gabe's rating: 8.9/10