Season Preview: Nordic Teams Look for Snow and State Championships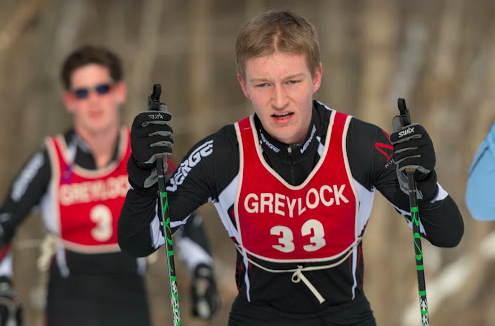 November 28, 2018
Filed under Sports
Hang on for a minute...we're trying to find some more stories you might like.
The snow is falling and the cross country trails have been cleared. Having actually skid on snow for the first time this afternoon, both the girls' and boys' nordic ski teams are ready for the 2018-2019 season.
Being runners-up at states and undefeated in the regular season last year, the boys' team has a title to live up to. Since last season, the team has lost four strong seniors: Jacob Adams, Ric Donati, Sam Edge, and Ethan Schoorlemmer. The new seniors, according to boys' head coach Hiram Greene, "have to step up and take the places of those who have graduated." These seniors, who include Theo Sandstrom, Michael Maruk, Ezra Sutter, Jakin Miller, Josh Cheung, Aidan Duncan, and Gio Cavalli, will have to rise to the challenge.
Spectators should look for Jakin Miller, Corban Miller, Owen Tucker-Smith, Col McDermott, Mike Maruk, Aidan Duncan, John Skavlem, Josh Cheung, Theo Sandstrom, Gabe Gerry, Charlie McWeeny, Foster Savitsky, and Finn Welch as racing begins later in the month. These skiers hope to power through the seven scheduled regular season races but also to excel at the end: "we certainly want to be competitive in the state race," said Greene. The boys hope to take back the title of state champions this year from Concord-Carlisle, last year's victors. The boys will begin their hunt for victory on December 31 at Prospect Mountain as the Berkshire league begins.
After also achieving an undefeated season and winning the state championship last year, the girls' nordic ski team has similarly high hopes for this winter. Even though the team graduated two seniors, Lilly Wells and Tenley Smith, they are hoping for the best season possible. With the new captains – Margo Smith, Ella Dudley, and Brandi Gill – the team is looking for a productive and competitive year. "A basic goal is just to teach some kids how to ski and to have fun and to accommodate everyone's ability, but then ultimately we would like to win states again," said Hillary Greene, the girls' head coach, on her hopes for the coming months. With this goal in mind, skiers including Brandi Gill, Margo Smith, Lainey Gill, Jackie Wells, Elizabeth Dupras, Miriam Bakija, Ella Dudley, Jane Skavlem, and Amelia Murphy are expected to deliver. The team is looking forward to their two races at Mount Greylock, including a relay race, as well as the league race at the end of December.