Students Push Neal to Support Green New Deal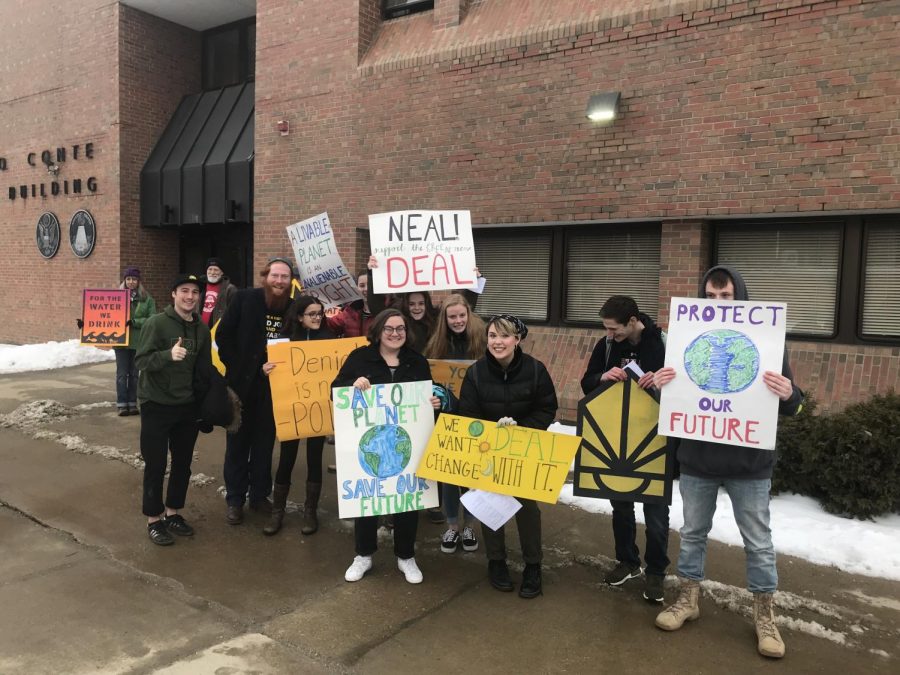 Over the past weeks, students in grades seven through twelve have collaborated with the Sunrise Movement and local schools to fight for a new congressional resolution: the Green New Deal. After attending a group watch party for the Sunrise Movement's informational livestream, students proceeded to visit congressman Richard Neal's office in Pittsfield to demand his support. After weeks of silence from the congressman, the students visited his Springfield office on Tuesday as part of the Green New Deal Nationwide Day of Action.
Interest Emerges
The Green New Deal, Representative Alexandria Ocasio-Cortez's and Senator Ed Markey's plan to stop climate change and create millions of jobs in the process, was released as a resolution in the first week of February. The resolution differed from many pieces of proposed climate legislation in that it combined the fight for climate justice with that for social and economic justice. In addition to net-zero carbon emissions, the resolution called for things such as "resources, training, and high-quality education, including higher education, [for] all people of the United States, with a focus on frontline and vulnerable communities" and the promotion of  "justice and equity by stopping current, preventing future, and repairing historic oppression" of the "frontline and vulnerable communities" referenced throughout the resolution.
The Sunrise Movement was formed in 2017 to fight for "green" minded candidates. They have been one of the driving forces for the Deal, and launched a national livestream to tell Americans more about it.
The students learned about the Green New Deal at a watch party for the Sunrise livestream, hosted by the Williamstown First Congregational Church. While First Congregational Church Youth Education Coordinator Anne O'Connor had the initial idea for the event, she decided to involve local students in the organization. "[O'Connor] reached out to Sophie and I about a week ago and asked us if we wanted to be a part of this. She said she was really interested in environmental justice. And it was a youth thing, so she thought it would be really cool if it was dominated by youth," REV (Register, Educate, Vote) co-founder Karen McComish said after the party.
"It made no sense to host a screening party to my usual demographic of 60 and up," said O'Connor. "I wanted to get out of the little bubble, and since there are clearly so many youth activists at Mount Greylock, it seemed like a good time."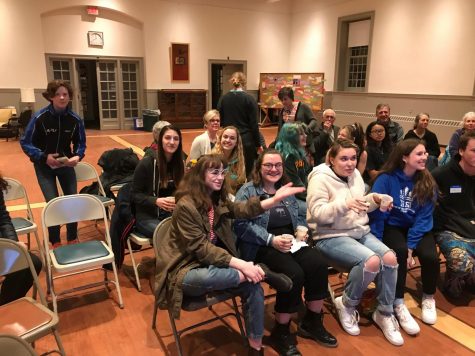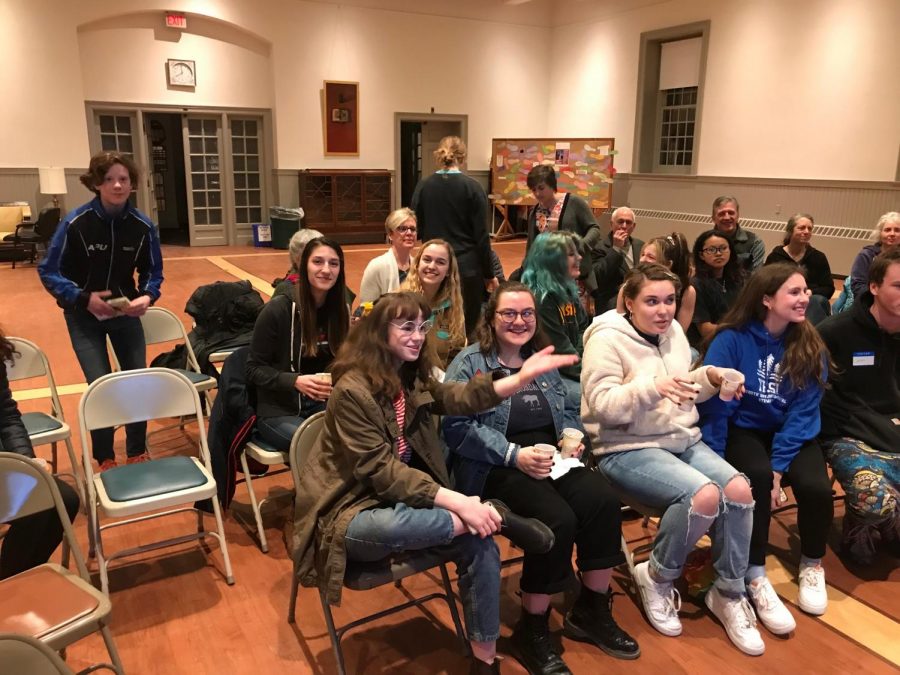 The Williamstown watch party was one of many gatherings across the nation viewing the live stream. Over the course of the 45-minute call, members of Sunrise, as well as critically acclaimed journalist and activist Naomi Klein, introduced the purpose, timeline, and goals of the Green New Deal.
Viewers were told to hold elected officials accountable and demand their support for the resolution.
For most of the state, this happened quickly – almost every Massachusetts congressperson signed on as co-sponsors in rapid succession
The one exception – Richard Neal, who represents Western Massachusetts in MA-1 and, by extension, Mt. Greylock students.
The Pittsfield Visit
Students at Greylock responded to Neal's silence by making signs and arriving at his office in Pittsfield, a plan sprung at the livestream watch party. A representative for Neal met with three Greylock students inside, while the rest of the students waited outside, waving signs and singing songs with members of Sunrise's Boston branch.
The students at Neal's office explained that they were led to push for the Green New Deal because of the urgency of climate change.
"If we don't do this today, then it's too late," said senior James Fisher.
Senior Sophie Jones agreed, arguing that "if we don't do something now, then my future children and their children's children won't have a safe planet to live in. And they need that."
Seniors Cathy McPartland and Karen McComish and junior Maddy Art represented the students inside the office, voicing their concerns to a member of Neal's staff. "We shared a couple of personal stories and explained why the Green New Deal would be important and effective in our district specifically," said McComish.
Berkshire County, as McPartland told Neal's representative, has been hit by deindustrialization over the last decades. She explained that this deindustrialization gives Western Massachusetts a special reason to support the Green New Deal.
"I talked about the effect of General Electric and Sprague leaving our community," McPartland told the Echo. "The Green New Deal is so important because it has language for transitioning jobs, so it would not just be good environmentally, but especially here for economic reasons."
"
The Green New Deal is so important because it has language for transitioning jobs, so it would not just be good environmentally, but especially here for economic reasons."
— Cathy McPartland
Criticism of the Green New Deal has emerged partly because of the deal's broad, vague nature. McPartland and McComish argued that this aspect of it is actually purposeful and important. They both stressed that "a national sweeping policy that addresses many facets of environmental issues" was necessary to tackle such an issue. "We don't have enough time for each individual thing to get individually passed," McPartland said.
Students at the office visit were quick to provide personal anecdotes to express their desire for environmental action. For McComish, this included a story about her family, who saw the dangers of ignoring the environment directly.
"A couple of years ago my cousins in Hoosick Falls, their water was poisoned by PFOA," McComish told the Echo. "Within a year Judy, Everett, and their dog all had cancer and they're still struggling with it today."
McComish said that the incident gave her a glimpse of how real the impacts of climate change are. "The experience had a big impact on my own family and it really awakened me to the urgency and how immediate environmental dangers are," she said.
Art explained that she absorbed much of her environmental instincts from her grandfather, an ecologist.
The result of the Pittsfield meeting was not a satisfying immediate co-sponsorship, but the students inside said that they got out of it what they wanted to.
"The point of this meeting was to get our stories told and to tell Neal that his constituents do care so that he has reason to support the Green New Deal," McComish said.
"We were able to tell our stories and he is planning on passing those up the ladder. Hopefully that will mean something," McPartland added.
The students' visit, which was covered on iBerkshires and through the Sunrise Facebook page, received an abundance of negative reception. Many iBerkshires Facebook commenters, calling the students "ignorant," "arrogant," "indoctrinated," and "uninformed," expressed strong distaste for the Green New Deal and the students supporting it. Many of them said that the Greylock students had not read the Green New Deal resolution in its entirety.
Responding to these comments, McComish told the Echo that "when they go low, we go high," quoting Michelle Obama. "A few [Greylock] people did respond in the comments, but they were only comments that were positive and based on facts, which was the opposite of what the other comments were."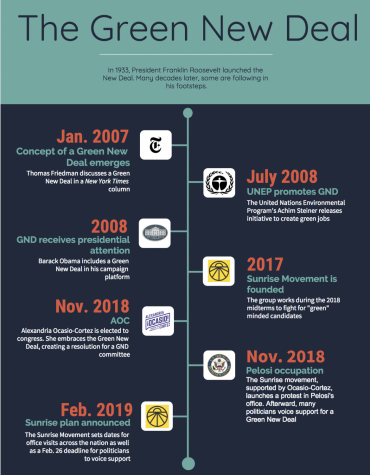 In her commented response, Art noted that the importance of the Deal lay much in its ability to create discussion about important issues.
"We are hopeful that this can be taken as an opportunity to have a conversation about how to best combat climate change," Art wrote. "If you don't support the Green New Deal, what kinds of environmental legislation would you like to see? How should we all work to make that happen?"
McComish said that the resolution will probably not get passed, but that attention toward climate issues is a valuable reward for the Green New Deal's efforts.
"[The Green New Deal] has shown politicians that this is a priority, that this is what we care about. Showing support for this will make it more likely in the future that politicians will support good environmental legislation," said McComish.
The Springfield Visit
In the weeks following the Pittsfield visit, Neal did not announce his support, so students joined the Green New Deal Nationwide Day of Action this past Tuesday by protesting at Neal's Springfield office. Neal announced recently that he is committed to passing legislation that will lower emissions, but the protesters said that that wasn't enough – that "incremental changes" would not be satisfactory.
"We came here today to ask Representative Neal to support this deal because it is the only progressive deal that will have the change that we need to take right now," said senior Ella Dudley in a speech outside of the office. "If we don't enact change now, our future and our environment and the beautiful nature of this state and this country will be destroyed forever."
"
If we don't enact change now, our future and our environment… will be destroyed forever."
— Ella Dudley
In her speech, McComish told the crowd about her family's experience with poisoned water at the hands of a factory, and said that "the intersection between corporate greed and political complacency resulting in entirely preventable human-made dangers has haunted me and my country."
"I read about Flint, where the politicians in power were responsible for poisoning an entire city," said McComish. "And today I read about senators on the other coast who dismiss their youth constituents, reasoning that their record of incremental policies which they have enacted during decades in office is enough and sufficient for now."
McComish pointed out in her speech that Neal was in an important position: "Neal, you have the power to make a statement by co-sponsoring the Green New Deal," she said. "Right now you have the power, being the last person in Massachusetts, to make our state the first one to have full support of the resolution."
Also present at the Springfield rally were members of Sunrise Boston, who emphasized that "all we want is a good job and a livable future. We don't think that's too much to ask… We know [Neal's] been an environmental champion in the past, and we are so hopeful that he will co-sponsor this resolution."
The livestream watch party and visits to Neal's offices are the Greylock activists' first major mobilizations of the school year. Last year, the group traveled to Washington to attend the March for Our Lives, and REV was born as an official club soon afterward. Club founders Art, McComish, Sophie Jones, and then-senior Maia Hirsch also had organized the Mt. Greylock chapter of National School Walkout Day to protest gun violence and remember the victims of the Marjory Stoneman Douglas High School shooting in Parkland, Florida, and later organized a town hall in Pittsfield for various politicians to answer questions about gun control legislation.
This year, the club has begun hosting formal after-school meetings to discuss various issues. While the office visits are not club events, they are coordinated by REV leadership and indicate that climate change may play a central role in the club's efforts this year, just as gun legislation did last year.
Sunrise has "hubs" all over the nation, but Williamstown is not one of them. However, McComish said that "we are talking about creating a hub here. It would take a lot of people power, but it would be really cool." Even if Williamstown doesn't become a hub, however, McComish said that there is still potential to create a higher level of environmental awareness in the area.
"A hub would be ideal, but if only activism comes out of this, that would still be great."
A version of this story appears in the March print edition of the Greylock Echo. Digitally, it has been updated to include content from our coverage of the watch party. You can read the article in the March print issue here and a full story on the watch party here.
About the Writer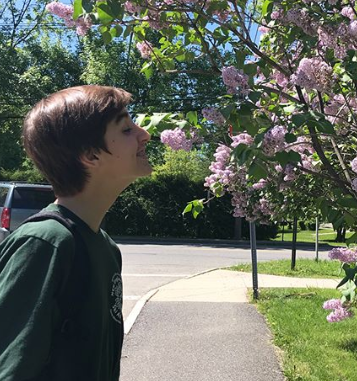 Owen Tucker-Smith, Editor-in-Chief
Owen has been on Echo staff for three years. When not writing, editing, and publishing stories, he can be found doing nerdy things (playing the piano,...