A Failure in Local Environmental Education is a Failure for All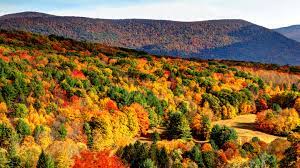 Having grown up in the Berkshires, I've found that it is easy to take my surroundings for granted; in fact, I have rarely given myself the opportunity to explore activities that are famously iconic to New England. I haven't been apple picking in years, I don't embark on many hikes, I rarely go searching for fall foliage, and worst of all, I drive to a school with a beautiful view of Mount Greylock each morning, yet I never take the time to appreciate it.
It wasn't until my siblings came home from college and remarked at how much they missed the nature that surrounds us that I realized how much I was taking for granted. When considering my experience learning and living in such a nature-rich town, it struck me how little our education incorporates our natural landscape into its teaching.
In elementary school, I remember going for hikes in the fall while learning about the foliage. In the spring we would go to ponds and find real world examples of the frog life cycle, and in the late summer we would research and raise our own Monarch butterflies.
Going into high school, I was excited to explore our unique natural world through a more sophisticated lens, but my hopes never materialized. Mount Greylock Regional School is surrounded by the beautiful Northeastern Deciduous Forest which is home to unique flora, fauna, and behaviors that deserve our attention. It's baffling to me that ecologists and nature enthusiasts travel from around the globe to see this unique wildlife, yet the people who live here rarely know anything about our local biology. 
A few weeks ago, a tourist asked me if I could identify a tree for her and I jokingly told her that I could really only identify two types of  trees: a Birch Tree and a Maple Tree, so I wouldn't be much help. Walking away from that interaction, I realized that what I said was completely true. 
I know little about identifying local flora and fauna, and I feel as though my scientific education — in terms of local application — ended in second grade. If you're asking why learning about our local ecosystems is so important, I grant you that is a fair question. Learning how to identify our local, natural world is not the most important skill to learn in school, but as citizens of the United States and the Commonwealth of Massachusetts, we have an obligation to learn about what makes our land unique and worth conserving.
There is a massive movement towards conserving wildlife around Massachusetts, the United States, and the world, and it's difficult to find occasions in which people elaborate on what we are conserving. Sure, reducing our Carbon Footprint will help the environment and reduce fossil fuels, but what will happen to our area if climate change continues? 
Mount Greylock Regional School is blessed with access to a beautiful environment, yet I feel woefully uneducated in what that forest holds. If a major aspect of public schooling is making everyone good citizens, how can we ensure we are learning about the very environment we are citizens in?