Mounties' Golf Places Third at Western Mass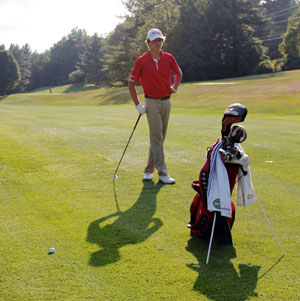 November 4, 2014
Filed under Sports
Hang on for a minute...we're trying to find some more stories you might like.
At the end of the regular season, the Mounties golf team, coached by Brian Gill and Brandon Asplundh, finished with a winning record of 8-7. Despite Greylock's number of losses this season, they have competed closely with the best teams in the county and Western Massachusetts. At the Division II Western Massachusetts Tournament at Taconic Golf Club in Williamstown, MA, junior Matt Wiseman and sophomore Kyle Alvarez led the team to an impressive third place tie with Drury. Wiseman and Alvarez's efforts earned them each a state tournament qualification. At the state tournament both Wiseman and Alvarez shot 89 at Glen Ellen Country Club in Millis, MA.
Wiseman noted that there were many rewarding moments throughout season, but perhaps most rewarding of all was playing close with the best in Western Massachusetts at a course familiar to many Mounties golfers. Wiseman and the rest of the squad are excited to get back on the links as a team next fall in pursuit of the coveted Western Massachusetts championship.