Boys' Soccer Defeats Southwick, Belchertown Looms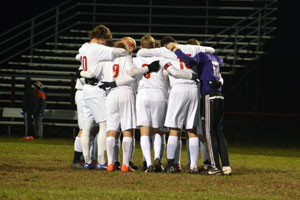 November 13, 2014
Filed under Sports
Hang on for a minute...we're trying to find some more stories you might like.
On Tuesday night, the Greylock Boys' soccer team matched up against Southwick in the Western Mass semifinal. Just like many other matches this year, the Mounties put on an excellent show. They defeated Southwick 5-1, even after a nerve-wracking start.
Early in the first half, Southwick attacked the Greylock defense, striking first. Greylock defender Taylor Carlough was knocked over and amidst the chaos, Southwick sent a ball past the keeper, Cal Filson. Despite this one goal, Filson played a huge part in the Mounties' win with three crucial saves.
Midway through the first half, Greylock tied it up off of a corner kick. Junior Benni McComish placed the ball expertly onto the head of Carlough, who passed to Felix Kershaw. Kershaw passed back to Carlough who then crossed it in to Eric Hirsch. Hirsch sent it in to freshman Sam Dils, who set up Kershaw for the equalizer. This beautiful team goal tied up the game, and boosted the Mounties' morale.
Shortly after, in the 38th minute, Greylock took the lead when Hirsch delivered a beautiful ball through the box to Dils who scored giving the team a 2-1 lead going into half-time.
The Mounties dominated the second-half and went on a scoring rampage. After being fouled in the box, Kershaw scored on a laser penalty kick. Just two minutes later, Hirsch scored his team-leading 19th goal off an assist from sophomore Crow Brennan. Dan Flynn cemented the victory with a goal late in the second-half.
With this victory, Greylock moves onto the Western Mass Final for the third time in four years. The opponent they face? Belchertown.
Rivalries are what keep us interested and devoted to our favorite teams and players. They occur in all sports, and lead to spectacular showings of athletic feats. The soccer rivalry between Mt. Greylock and Belchertown is fierce. It is a rivalry of equal caliber to the Red Sox and the Yankees, to Rafael Nadal and Novak Djokovic, to Duke and North Carolina.
This rivalry goes back to 2009. Remember the swine flu, or "I Gotta Feeling" by the Black Eyed Peas? That's how old this rivalry is. Since 2009, the teams have met only five times, and all five times, Belchertown has knocked Greylock out of the Western Mass tournament.
But this could be the year. With Greylock's uptempo, clobbering offense and the wall of a defense that has only allowed ten goals (tied for the fewest since 2009 and 2011) this season, "strong" is an understatement for the 2014 squad. This matchup is what the Mounties have been dreaming of all season. Heading into the game which will kick-off at 4:30 on Sunday at Westfield St., there are two words plastered in the mind of every player. Beat Belchertown.