An Interview with Dan Flynn '15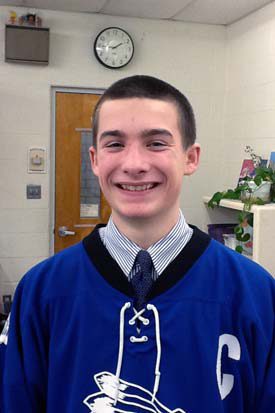 Hang on for a minute...we're trying to find some more stories you might like.
Greylock senior Dan Flynn is a three-sport athlete who participates in soccer, hockey and baseball. This winter season, Flynn is captaining his co-op hockey team serving Mt. Greylock, Drury, Hoosac Valley, McCann Tech and Wahconah all under the Wahconah High School name. Last year as a junior, Flynn was an essential member of the 2014 Division 3A Western Massachusetts champion team, who edged a gritty Chicopee High team 7-6 to capture the title. So far in 2015, the Warriors are struggling but eager to turn their season around and defend their Western Massachusetts championship.
Echo: What drives you as a hockey player?
Dan: I've been skating ever since I could walk. Hockey is in my blood. It's something that only I do out of all of my friends.
What are the keys to turning the season around?
We started off the season with some tough teams. To be a successful team our forecheck (defensive pressure) needs to be where it was at the end of the season last year. The keys are chemistry between the forwards because we have yet to score many goals this year.
How important is it to keep everyone healthy?
Being healthy during the season is always important. With a team of five schools combined, it is hard to lose players because depth is always neccesary.
What are the keys to repeating as Western Massachusetts champions in the 3A division?
Repeating as Western Massachusetts champions all comes down to who wants it more. Hockey is a weird game. Anyone can beat anyone during the playoffs; all it takes is one goal.
 Between you, junior Jack Milne, sophomore Kyle Bazonski, and freshman Hoby MacWhinnie, how do the Greylock players stack up to the Wahconah players in terms of talent?
We've all played with each other during youth hockey, so we all know each other. There isn't one school in particular that is better than the other. The Mounties hold our own on the team.
Flynn and the Warriors continue to turn their season around one win at a time, but to repeat as champions, they must go through powerhouse Chicopee High School and an above average Chicopee Comprehensive High School team. The Warriors take the ice next against Taconic on January 17 at Vietnam Veterans Memorial Rink in North Adams.