Senior Mischief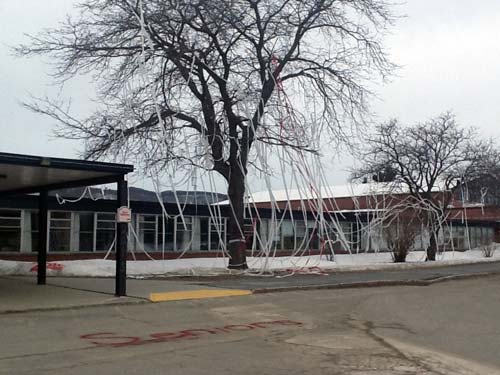 March 20, 2015
Filed under News
Hang on for a minute...we're trying to find some more stories you might like.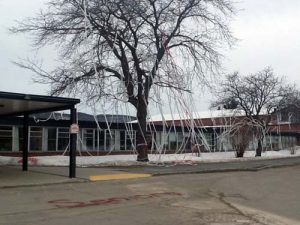 When Buses pulled in at Mt Greylock Regional High School March 20th, they were greeted by the sight of red and white toilet paper hanging from the trees. Although this is not the senior prank for the class of 2015, the graffiti on the snow banks and walls on the outside of the school, includes many "2015" signs, a clear indication that the Seniors at Mt Greylock Regional High School are responsible for this prank. Additionally, they sprayed some Silly String throughout the area and plastered some windows with writing.
At the same time, a Craigslist page was opened for the school yesterday, with the school's "seller" being willing to part with Mt. Greylock for $1. Links to the offering had spread to social media by early evening. The listing describes the school as a "Great building here filled with asbestos and mold," and that it is " it's a great learning environment if you want [headaches] and cancer from the water." There has been no evidence that anyone is being punished for the pranks, nor any indication who was directly responsible. However, many seniors have been whispering in the hallway about the prank. It appears that not all Seniors were informed about the prank, and that the prank was in fact committed by a splinter group of pranksters. Much of the "decoration" had been cleaned up by select seniors by mid-day.