Student Elections: Results In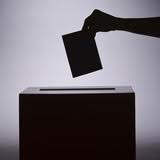 June 9, 2015
Filed under News
Hang on for a minute...we're trying to find some more stories you might like.
Throughout the past few weeks, the rising high school classes elected their representatives. Student representatives fall into three categories: class officers, Student Council members, and School Council members. Class officers' responsibilities include fundraising for Prom and Senior week and organizing class events and meetings. Student Council members have the purview of serving as a mouthpiece for student desires to the administration and can organize events such as Greylock Talks and Greylock Plays. School Council members, Adly Templeton, Ian Culnane and Simon Kent, represent the student body on the School Council, which deals with school policy issues, like scheduling and disciplinary policy.
Student Council officer elections were held on Thursday, May 29th, with junior Ian Culnane beating out fellow junior Gray Kaegi for the office of Student Council president. A recurring problem for Student Council throughout the years is the lack of town diversity, with the Council being overwhelmingly comprised of Williamstown residents year after year. This year, 85% of the Student Council call Williamstown home, 10% Lanesborough, and 5% North Adams. Student Council President-elect and Williamstown resident Culnane stated that while the Council cannot force residents of under-represented towns to run and has no control over the election, it "highly encourages all people from all demographics to run for office."
On Monday, May 19 the freshman class and sophomore class had their student government elections. The eighth grade and the junior class had their elections on May 26. All students voted during their directed study, either block 5 or block 7. Every incumbent in the junior class that ran won, with Dakota Lane winning the open seat left by the incumbent that did not seek reelection. For the class of 2017, the presidential election was hotly contested, with incumbent Zach Armet challenged by a member of his own administration, treasurer Niku Darafshi. Darafshi won the election. The results for the freshman class include: Jacob Hane as president, Sam Edge as vice president, Connor Mcclanan as secretary, John Werner as treasurer. There are five Student Council representatives for the class of 2018:  Ethan Schoorlemmer, Sam Dils, Josh Duncan, Gabby Orpin and Leah Majumder. For the class of 2019, results announced Adam Cohen as president, Autumn Delorey as vice president, Luke Swann as treasurer, and Isabel Nicastro as secretary.
Election season serves to remind students of the effect they can individually have on the school and the community.