Good Standing Policy Implemented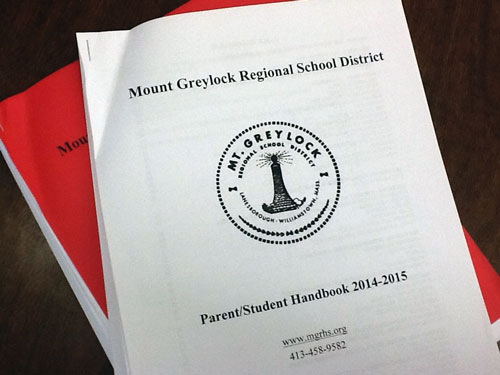 October 28, 2014
Filed under News
Hang on for a minute...we're trying to find some more stories you might like.
This fall, Mt. Greylock consolidated previous parking, attendance and athletic policies into a new Good Standing policy. A student in violation of the Good Standing policy is on social probation, preventing them from attending dances, field trips, club meetings and athletic contests. Students fall out of Good Standing if they have failed more than one course per semester, if they have six unexcused tardies per quarter, if any substantial debt (200 dollars or more) is owed to the school,  if they have more than three parking violations per quarter or if they are deemed a chronic offender of rules by the administration. Although students cannot play in a game or contest or perform in a production, they may still attend practice or rehearsal while on social probation.
The Good Standing policy is a change from the previous and more traditional approach of detentions and suspensions for the offending student. The policy of social probation reflects the desire of the administration to keep students in the classroom while still having consequences for students. Says Vice Principal Jacob Schutz, "We instituted the new policy because our goal is to keep students in the classroom, so detentions and suspensions are counterintuitive." The rule that a student may not fail more than one course per semester is carried over from the policies of previous administrations. The rule effectively consolidates previous athletic, attendance and parking policies into a single policy.
Student opinion is marked by ignorance of the policy, with many questions as to what the policy is. To resolve this problem, Student Council had an informative meeting with Schutz so that the members could explain the policy to other students.