Greylock Students Match Wits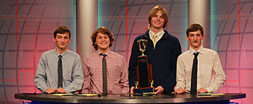 Hang on for a minute...we're trying to find some more stories you might like.
The As Schools Match Wits program is a Western Mass based quiz bowl for high school students. This season marks the 53rd year the program has been running. Mt. Greylock has won three of the last four seasons of the competition and is the defending champion heading into the fall of 2014. This year, with a new team, Greylock hopes to maintain that winning streak. Team members include Noah Savage, Joey Gais, Jake Foehl, Ailsa May and alternate Will Nolan.
In order to win this year, the team has to compete in a preliminary match that was held on Saturday, November 1, and rank in the top eight scorers out of fifty total teams. The program will air on Saturdays at seven p.m. starting December 1 on WGBY. After the preliminary round, teams will compete in quarterfinals, semifinals and the championship respectively and must win every round to advance.
During each round, the team has to answer questions from six categories: Arts and Entertainment, Literature, Math and Science, General Knowledge (which includes sports), Social Studies (which includes civics and geography), and World Events (which includes history and current events). The four point values from each category include 15, 20, 25 and 30. There are also two Lightning rounds in which students have 90 seconds to rapidly answer questions from a single category. Either team can buzz in to earn five points for each question.
The newest addition is the Challenge round at the beginning of the match, in which questions can be from any of the categories and questions are worth 10 points each. Whichever team buzzes in first during this round has the opportunity to answer the question, and if they answer incorrectly a penalty is not given, but the chance to answer is passed to the next team.
The As Schools Match Wits program is a long standing program that provides an opportunity for students to compete against other teams from all around Western Massachusetts. English teacher Blair Dils, the team's faculty coach, said, "We have very smart kids here at Mt. Greylock, and it's a fun opportunity for them to show off their talents."